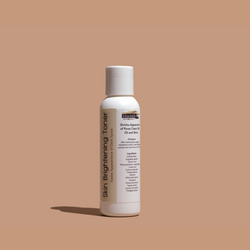 Blackskin.com
SKIN BRIGHTENING GLYCOLIC ACID TONER
Powerful glycolic acid and AHA of papaya and pineapple extract combine to even dark spots and improve skin texture. As with regular use, discoloration from acne and sun damage significantly reduces. 
Oil-free moisture and fruit extracts reduce inflammation and soothe and hydrate problem skin. Paraben and Sulfate Free.
 SIZE: 4.0 Fl Oz 
 Works Well For
OILY SKIN
BLEMISH PRONE SKIN
HYPERPIGMENTATION
How to Use
Best used 2-3 times a week max for best results for dark spots, also dark spot serum.
After cleansing, dampen a cotton pad with toner and apply it to the face and neck, avoiding the eye area. Use day and night. 
Perform a  skin patch test before full use using. Behind your ear is a good place to patch test. Test 24 -48 hours. If you have any irritation, discontinue use.
Ingredients
Distilled water, Glycolic acid, Phenoxyethanol, Willow bark extract, pantheon, Allantion, Papaya extract, Pineapple extract,  Licorice root extract,  Glycerin, Sodium Hydroxide