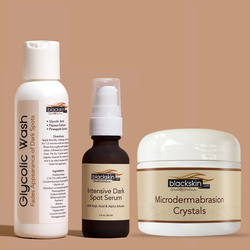 Blackskin.com
Dark Spot Serum Bundle
Dark Spot Serum Bundle:
Intensive Dark Spot Serum with Kojic Acid and Arbutin  1 oz 
Microdermabrasion Crystal  2 oz 
Glycolic Wash  4 oz
How to Use
At night use the glycolic wash a dime size in the palm with water and apply to the face or body. 
Once or twice a week, combine the glycolic wash with the microdermabrasion crystals. See below:
Scoop out a dime-sized amount of crystals into the palm of your hand and combine it with a gentle wash (we recommend using a 1:10 ratio). Rub hands together to create a creamy paste. Wet skin to be treated, apply a small amount and gently massage with fingertips in a circular motion for 1-2 minutes.
Apply the Dark Spot Serum after cleaning the face to the effected area.
Ingredients:

Dark Spot Serum 
Purified Water, Kojic Acid, Alpha Arbutin, Bearberry Extract, Aminopropyl Ascorbyl Phosphate, Hydroxyethylcellulose, Glycerine, Allantoin, Sodium Metabisulfite, Phenoxyethanol, Ethylhexylglycerin, Citric Acid.