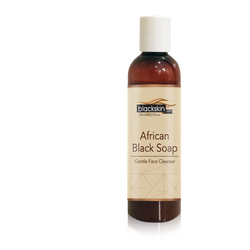 Blackskin.com
Enriched Liquid African Black Soap 8oz
Our enriched liquid African black soap is a natural wash for sensitive skin on the face and body.
Benefits and Uses of African Black Soap

Unlike many commercial soaps, Blackskin.com's African Black Soap contains no hidden ingredients and is great for sensitive skin. 
The soap can help

 

even out your skin tone

 

and

 

reduce blemishes.
African Black Soap fights acne soothes eczema, and helps treat psoriasis.

Thanks to its antibacterial properties, the soap also eradicates fungus.

 African Black Soap is perfect for people with oily and dry skin.  This soap eliminates dead cells, excess sebum, and dirt without stripping the skin of its natural oils.

The antioxidants in African Black Soap fight aging by evening out wrinkles and fine lines.

African Black Soap eliminates razor bumps, as the soap is a moisturizer and a cleanser.

Thanks to the soap's Palm Oil and Shea Butter, you can use African Black Soap to fade scars and stretch marks.

Unclog your pores thanks to the deep-cleansing capabilities of African Black Soap. 


Ingredients 
Cocoa Butter:
 A rich natural ingredient, cocoa contains anti-inflammatory and anti-aging properties that help repair, tone, and tighten the skin. It is also known for soothing acne, eczema, and dermatitis.
Shea Butter: Rich in vitamins A, E, and K, as well as fatty acids, Shea Butter is a skin moisturizer and protector of photoaging. It can also help fade scars, reduce blemishes, and treat sunburns. Its natural SPF 6 will protect you from the sun.

Coconut Oil: Coconut Oil promotes moisture in the skin, and its antimicrobial properties help fight skin conditions such as acne and eczema. 

​Plantain Skin Ash: Known for its high vitamin A and E content, plantain is also full of iron and other nutrients. This is vital to maintaining healthy, youthful skin.
Palm Kernel Oil: Beneficial for your hair, Palm Kernel Oil features a high fatty-acid content. It will condition and thicken the hair and even help prevent hair loss.